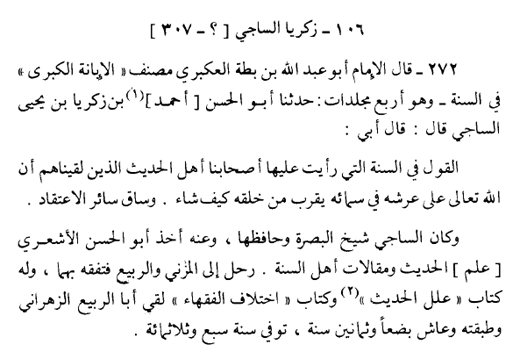 The Imaam, Abu Abdullaah bin Battah al-Ukbaree, the author of "al-Ibaanah al-Kubraa" regarding the Sunnah - and it is in four volumes - said: Abu al-Hasan [Ahmad] bin Zakariyyaa bin Yahyaa as-Saajee said: My father said:

The saying regarding the Sunnah that I saw our Companions upon, the people of hadeeth whom we met is that Allaah, the Most High, is
above His Throne, above His heaven
, and He comes close to His creation however He wills...
And he quoted all of the creed.
And as-Saajee was the Shaykh of al-Basrah and its Haafidh, and it is from him that Abu al-Hasan al-Ash'ari took the knowledge of hadeeth and the positions of Ahl us-Sunnah. He (as-Saajee) traveleld to al-Muzanee and ar-Rabee' and acquired fiqh (of the deen) through them both, and he has a book called "Ilal al-Hadeeth", and the book, "Ikhtilaaf al-Fuqahaa". He met Abu ar-Rabee' az-Zahraanee and his generation and he lived for eighty and some years, he died in 307H.
Source: "Mukhtasar al-Uluww" of Imaam adh-Dhahabee, p. 223.