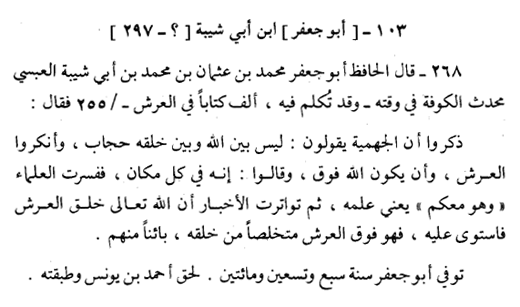 Abu Ja'far Ibn Abee Shaybah (d. 297H)
Al-Haafidh Abu Ja'far bin Muhammad bin Uthmaan bin Muhammad bin Abee Shaybah al-Abasee, the Muhaddith of al-Kufah in his time - and there is some speech made regarding him - he authored a book regarding the Throne, so he said (therein):

They mentioned that the Jahmiyyah say: "There is no veil between Allaah and His creation", and they rejected the Throne, and that Allaah is above it. They said, "He is in every place". So the Scholars explained (the verse), "He is with you..." to mean "His knowledge [is with you]". Then the reports that Allaah created the Throne and rose over it were transmitted through tawaatur [large-scale transmission]. So He is above the Throne, free [of being merged] with any of His creation, separate and distinct (baa'in) from them.
Abu Ja'far died in the year 297H and he met Ahmad bin Yunus and his generation (of Scholars).
Source: "Mukhtasar al-Uluww" of adh-Dhahabi (p. 220)