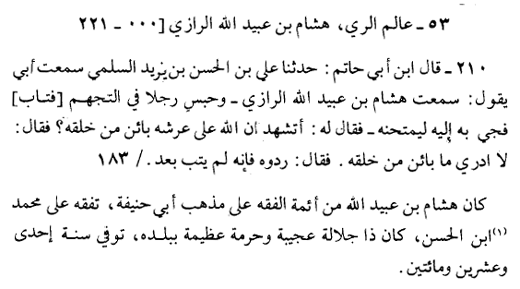 Hishaam bin Ubaydullaah ar-Raazee, the Scholar of ar-Rayy (d. 221H)
Ibn Abee Haatim said: Alee bin al-Hasan bin Yazeed as-Sullamee narrated to us: I heard my father saying:

I heard
Hishaam bin Ubaydullaah ar-Raazee
- and a man had been imprisoned for tajahhum (harboring the views of Jahm bin Safwaan) and he had repented. So he was brought to be examined. He (Hishaam) said to him, "Do you testify that Allaah is
above His Throne
, separate and distinct from His creation (
baa'inun min khalqihi
)?" He said, "I do not know what is
'baa'inun min khalqihi'
". So he (Hishaam) said, "Send him back (to prison) for he has not repented.
Hishaam bin Ubaydullaah was from the leading scholars of fiqh upon the madhhab of Abu Haneefah. He gained knowledge of fiqh from Muhammad ibn al-Hasaan. He possessed great dignity and held great respect in his land. He died in 221H.
Source: "Mukhtasar al-Uluww" of adh-Dhahabi, (p. 181).