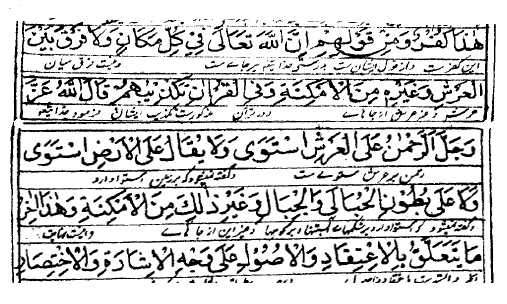 Shaykh Abdul-Qaadir al-Jeeelaanee (d. 561H) said:

And from their saying [the Saalimiyyah] is that Allaah is in every place and [that] there is no difference between the Throne and [what] is other than it of the [various] places. And in the Qur'an is rejection of them [them being declared liars]. Allaah, the Mighty and Majestic said: "
Ar-Rahmaan ascended above the Throne
." And it was not said, "...ascended above the earth..." and nor upon the interiors of mountains. And mountains and other than them are from the places (amkinah).
And this is the end of what is associated with [the affair of] i'tiqaad (belief) and usool (foundations) from the aspect of (mere) indication and conciseness.
Source: Ghunyat ut-Taalibeen of Shaykh Abdul-Qaadir al-Jeelaanee (1/241-242)